My Wife, Centerfold Model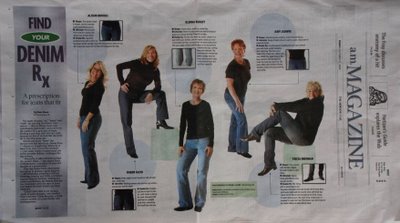 Move over, Keith -- there's another model in the family!
This full page spread appeared in the AM Magazine section of the Allentown Morning Call newspaper on Friday, October 27, 2006. The cover story is a fashion article about finding jeans that fit, and Glenna is the model in the center of the page! Jill Strickland, owner of Frox, the store in Perkasie where Glenna buys most of her clothes, is featured in the story, and had asked Glenna a few weeks ago to pose for the story, along with several other of her customers. She looks great, don't you think?!!
Click on the photos for a larger view.