Band Practice in Atlanta, GA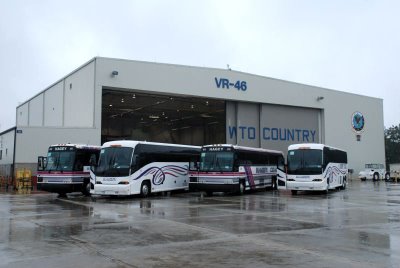 Problem: You've got a high school band -- about 140 members strong -- taking part in a major regional band competition, and they need to do some final rehearsing before the big show. You need a football field. But it's raining, and the competition begins tonight! What to do?!!
Solution: Fortunately you have a good friend with connections to top brass at the local Naval Air Station -- in this case, Dobbins Naval Air Station in Marietta, GA, just north of Atlanta. With a phone call, they agree to move a jet out of a large hangar on the base, and allow four motorcoaches and two trucks, one pulling a trailer, onto the base, drive onto the skirt of the runway and park right in front of the now empty hangar. Problem solved!
Believe it or not, that's about exactly what happened Thursday when the high school band I drove to Georgia needed a last minute place to practice in the rain. Previous contingency plans called for practice in a local high school gymnasium in case of bad weather, but that would have severely limited their practice -- it's a large band, with very complex movements across a 100 yard football field, most of which they'd have been unable to practice effectively in a gymnasium. So one of the parents of a band member, who's husband is in the Navy Reserves, made a couple of phone calls, and the photos here are the evidence of the results!